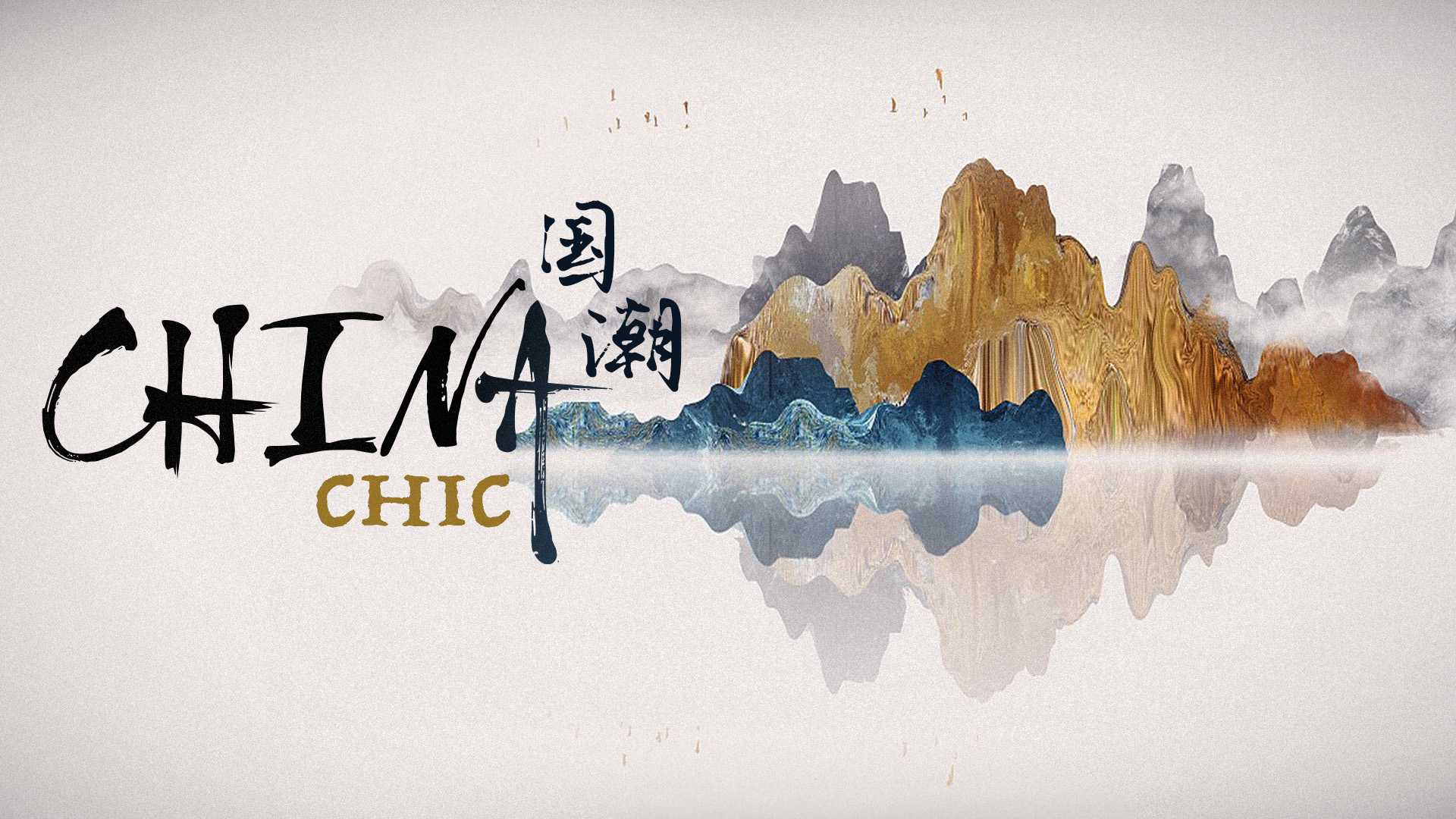 Chinese vogue realm has witnessed a trend for "China Chic" since early 2018 after domestic sportswear brand Li-Ning hit the fashion circle by storm with its robust oriental-styled designs."China Chic", or "Guo Chao" in Chinese, refers to designs deeply rooted in Chinese culture and perfectly mixed with modern fashion.At the semi-annual New York Fashion Week last February, Li-Ning amazed the spectators with its Wu Dao (the principles of Taoism) collections. That has made the once sub-marginal brand a household name in the fashion industry overnight.
Li-Ning collections during New York Fashion Week in 2018. /VCG Photo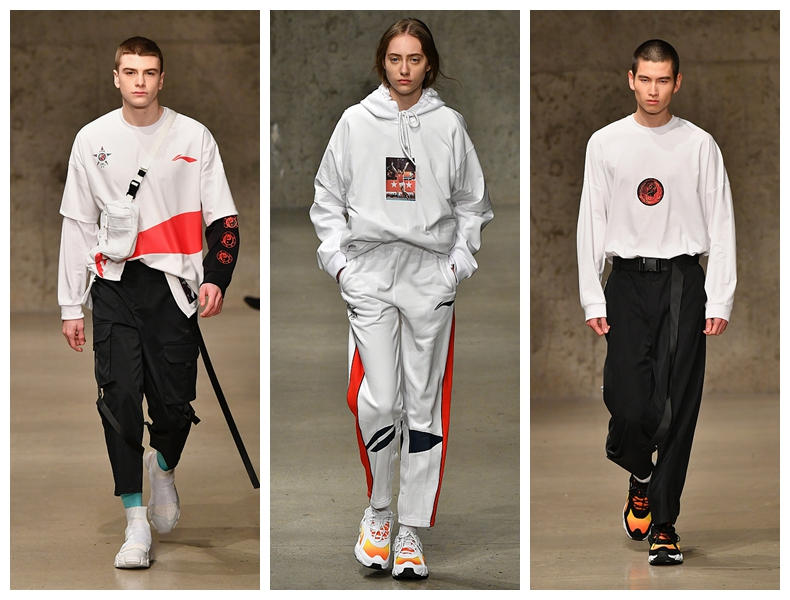 Li-Ning jackets during New York Fashion Week in 2018. /VCG Photo
Li-Ning suffered a deficit of three billion yuan (418 million U.S. dollars) from 2012 to 2014 and it closed 1,821 stores in 2013. By contrast, its revenue reached 10.5 billion yuan (1.46 billion U.S. dollars) in 2018, 18 percent up from the previous year, according to its annual financial report. It's been the first time the company's revenue surpassed 10 billion yuan (1.4 billion U.S. dollars) since its founding in 1990.The popularity of Chinese designs caters to young consumer's tastes to showcase personality while embracing the traditional culture. Jason Yu, managing director of Kantar Worldpanel, told CGTN that young consumers have a high-level pride of the country and Chinese brands' resurgence suits that mentality.
More than clothing
Besides Li-Ning, plenty of Chinese brands have made products blending with tradition and innovation. Those brands, either old or new, range from cosmetics to food to electric appliance.At the Fall/Winter New York Fashion Week last September, China's down jackets brand Bosideng made heavy coats an iconic fashion with its collections highlighted by washing paint, stamped with Chinese characteristics, pavilions, and gardens in water-bound towns of southern China.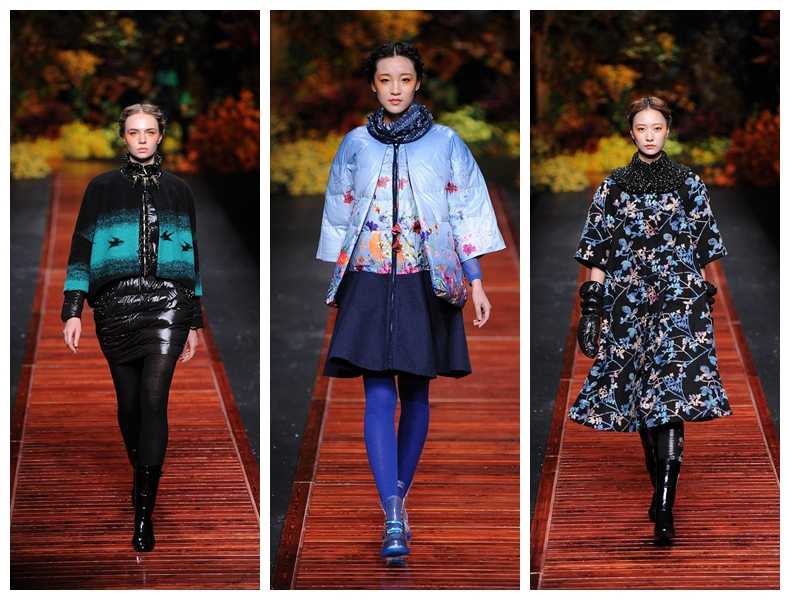 Bosideng down jackets during New York Fashion Week. /VCG Photo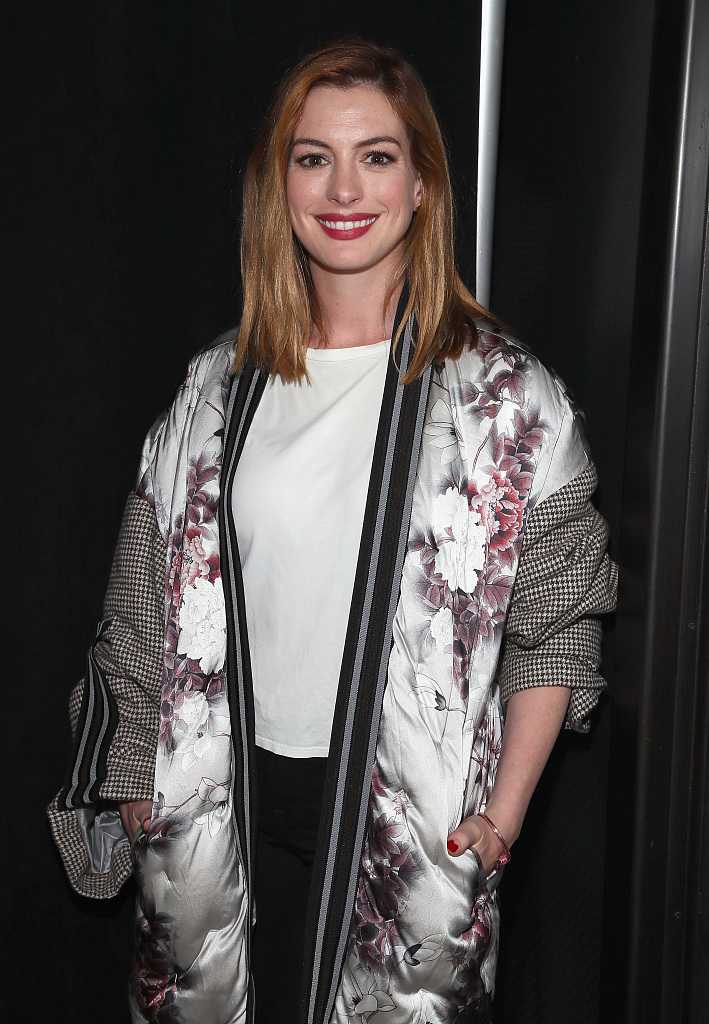 American actress Anne Hathaway poses backstage for Bosideng during New York Fashion Week in New York City, September 11, 2018. /VCG Photo
Inspired with its 1,860,000 pieces of collections, the Forbidden City in Beijing is another highly-successful pioneer in leading the "China Chic" trend. It launched a set of lipsticks with elegant packages of royal embroideries, antique furniture and fairy cranes in 2018. Online buyers snapped up more than 100,000 lipsticks within four days.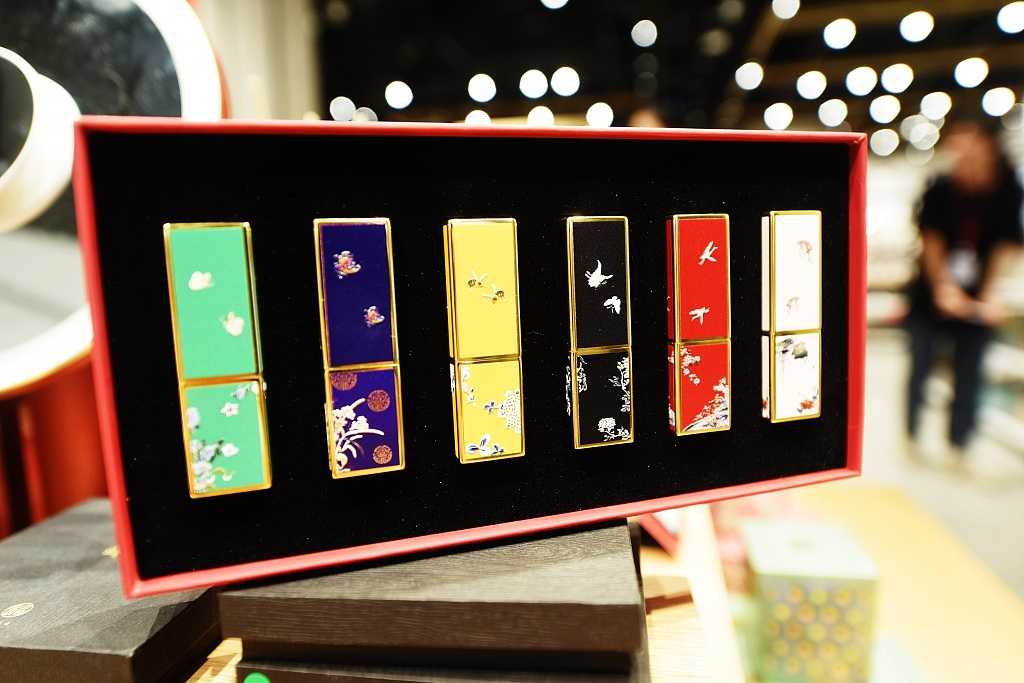 A set of lipsticks made by the Forbidden City. /VCG Photo
Another example is milk candy brand White Rabbit, which developed perfume, body wash, cushions, and tote bags with various partners. The company has rolled out an arsenal of paraphernalia to attract customers already familiar with the brand.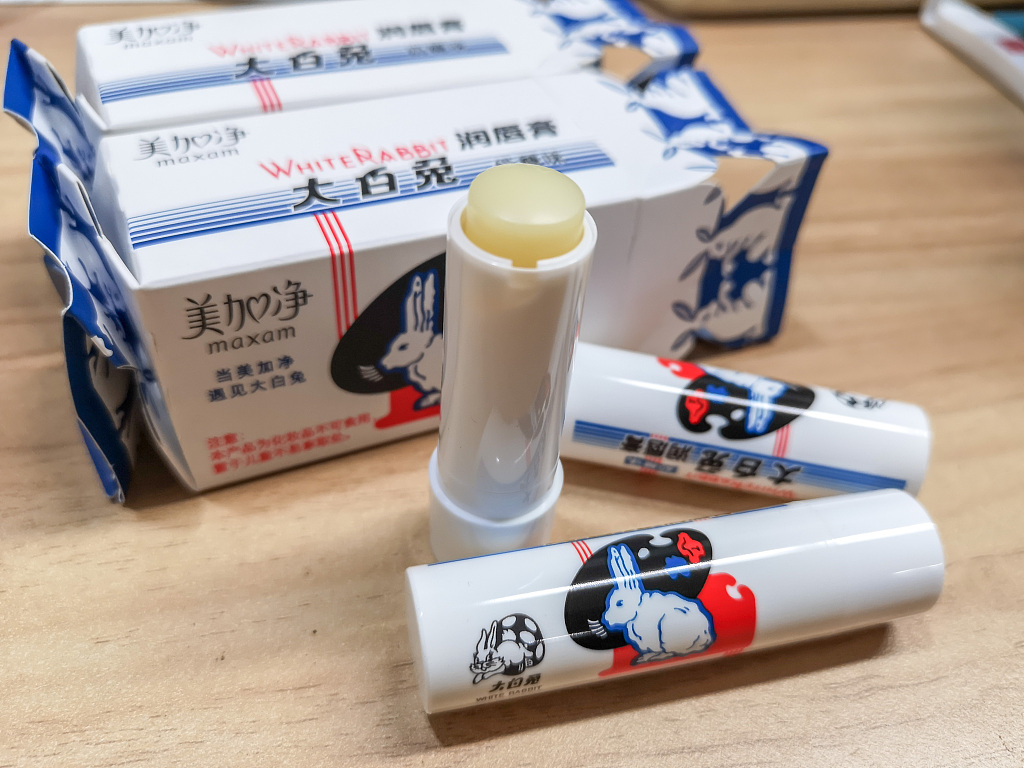 White Rabbit candy-flavored lip balm. /VCG Photo
Interestingly, the original locations of "China Chic" brands seem to concentrate in south China, according to research by Chaopaihui, an online community for hipsters in China. It randomly selected 50 brands and found that over 90 percent are from cities in southern China. Five cities in Guangdong Province, – Guangzhou, Dongguan, Shenzhen, Zhuhai, and Jiangmen – made a list out of the total 11 cities.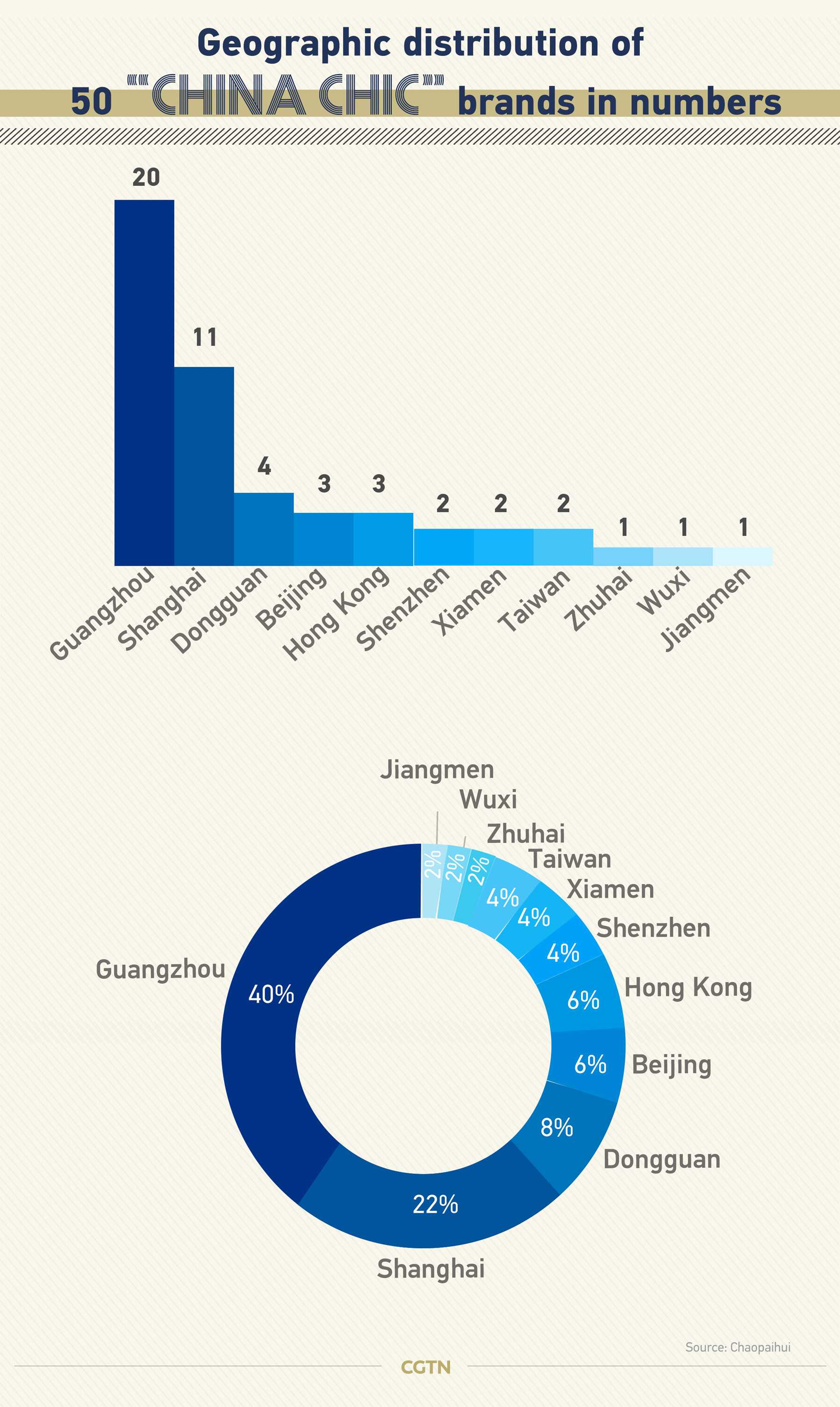 CGTN Infographic
Internet as a catalyst
The e-commerce platforms have played an indispensable role in developing the "China Chic" trend. Platforms, including JD.com and Taobao.com, have launched events like "China Chic Movement" and "Here Comes the China Chic" to promote Chinese designs."If there is no Taobao, many designers like me won't be known to the public as it's too expensive to open stores in shopping malls," Wu Wei, a designer who set up his online store back in college, told the media.Nearly 50,000 designers started their online stores on Taobao in 2017, according to "China's Original Design Entrepreneurship and Consumption Report 2018" released by Taobao and CBNData.
How far will 'China Chic' go?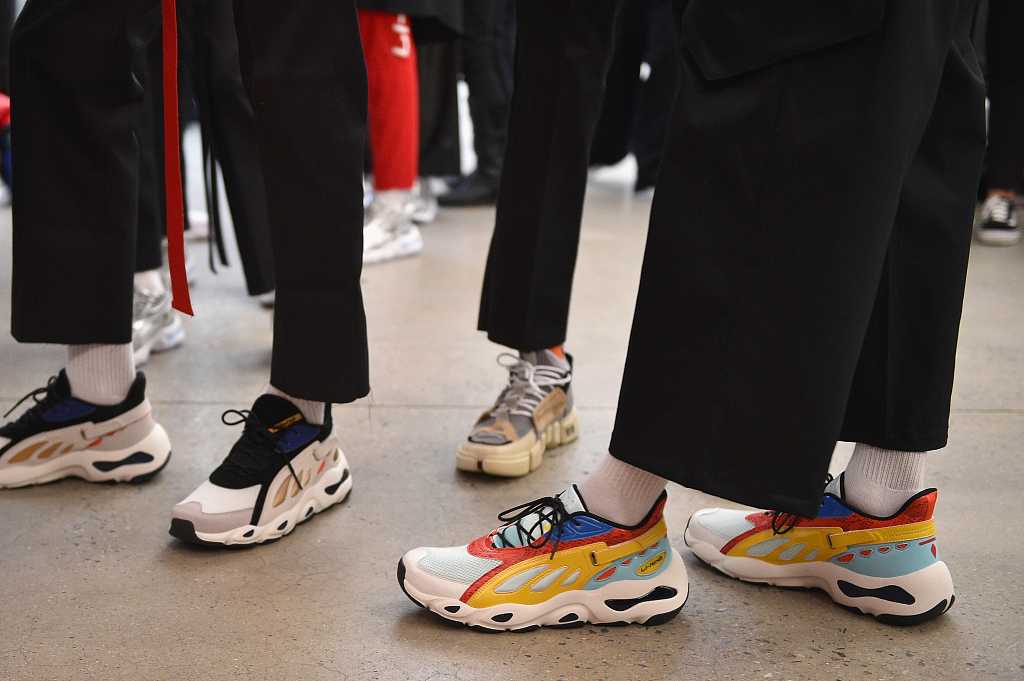 Models prepare backstage before the Li-Ning Fall/Winter 2018 Collection Fashion Show during 2018 New York Fashion Week at Skylight Modern in New York City, February 7, 2018. /VCG Photo
Along with the popularity of "China Chic" brands, originality remains something castigated. Even with the big market success, Li-Ning has been criticized for copying Balenciaga in some of its designs. Many say some brands piles up so-called Chinese elements and make some quick money in the name of "China Chic".
Against such a backdrop, whether the trend of "China Chic" is something enduring or just a flash in the pan has caused heated discussions in the online community.
ChinaSSPP.com, an influential website specialized in fashion information in China, conducted an interview asking some industry insiders "How far do you think 'China Chic' will go" back in March. Here are some selected answers.
The market won't mature until people forget the concept of "China Chic" but to view every brand and its design as an independent individual.
- Yin Jianxia, founder of Uooyaa
I think it will take many years for "China Chic" to rise. It has popped up in the last two years after all.
- Ella Yu, brand director of Mark Fairwhale
If our domestic brands work hard at making original designs deeply rooted in our culture, the rise of "China Chic" is definitely something not far away.
- Fraser Zhang, marketing director of the original designer platform of Inself
The trend will continue for the next three or five years. But it's hard to predict whether "China Chic" can rise in a real sense.
- Jeremy, marketing director of Morpyn