Dong Mingzhu, chairwoman of Chinese home appliance giant Gree Electric Appliances, speaks at the session of "70 and 40 Years in Retrospect: China in a New Era" during the Boao Forum for Asia Annual Conference 2019 in Boao, south China's Hainan Province, March 26, 2019. Photo by Sui Xiankai
Although external uncertainties and protectionism may make the road ahead bumpy, Chinese enterprises are set for a path of growth with pains and gains.
According to the Fortune Global 500 list, China has the highest number of big companies that made it to this year's list, surpassing the United States for the first time.
The growth of Chinese firms was attributed to the country's expanding domestic market, as well as their strategic restructuring and the country's macroeconomic development.
The success also lies in how well Chinese enterprises can innovate and adapt to global markets, how well they stay strategically focused and how open they are to cooperation and competition.
INNOVATION, CORNERSTONE OF DEVELOPMENT
As one of the 13 new Chinese firms on the Global 500 list this year, home appliance giant Gree Electric Appliances embraced innovation as the soul of the enterprise, according to Dong Mingzhu, Gree's chairwoman.
From a small factory with an annual output value of less than 20 million yuan (2.9 million U.S. dollars) to the world's largest specialized air conditioning enterprise, Gree became more innovative as it grew bigger.
Committed to independent innovation and development, in 2015, Gree brought the slogan "Made in China, Loved by the World" to promote Chinese self-developed brands worldwide.
The company has focused on cultivating talent as Dong viewed developing talent team as the most essential element in the process of innovation.
Gree's research and development (R&D) engineers have risen to 13,000 in 2019 from only 800 in 2012, while nearly 2,000 graduates from the country's prestigious universities join Gree each year.
In February, Gree launched a new business model -- asking all of its 90,000 employees to open their own online stores to sell Gree products -- to get closer to the consumers.
Innovation is a self-challenging process, and making a solid progress step by step is the key, Dong said.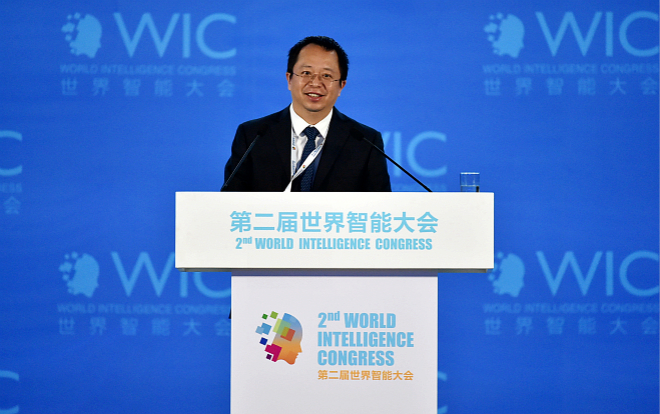 Zhou Hongyi, founder of the Chinese internet security firm Qihoo 360, delivers a keynote speech during the 2nd World Intelligence Congress held in north China's Tianjin, May 16, 2018. Photo by Li Ran
LONG MARCH SPIRIT
The 12,500-km-long journey undertaken by the Red Army starting in 1934 tested the will, courage and strength of the men and women in China at that time and still inspires Chinese entrepreneurs in chasing their dreams.
Zhou Hongyi, the founder of the Chinese internet security firm Qihoo 360, likened running a business to the legendary Long March as both require long-term and consistent efforts to succeed.
Pressures from tepid world economic growth and trade tensions have made Chinese entrepreneurs realize that the keys for surviving and thriving are maintaining a strategic focus, concentrating on the main business and innovation, said Qu Defu, president of the Tianjin-based Benefo, an equipment manufacturer.
Liaoning Oxiranchem, Inc., a former university-run factory, has grown into one of the world's leading chemical enterprises.
"Oxiranchem raised over 2 billion yuan after it went public, and the company poured all the money into the innovation of technology without being distracted by the booms of real estate, mine exploration or financial investment," said chairman Zhu Jianmin.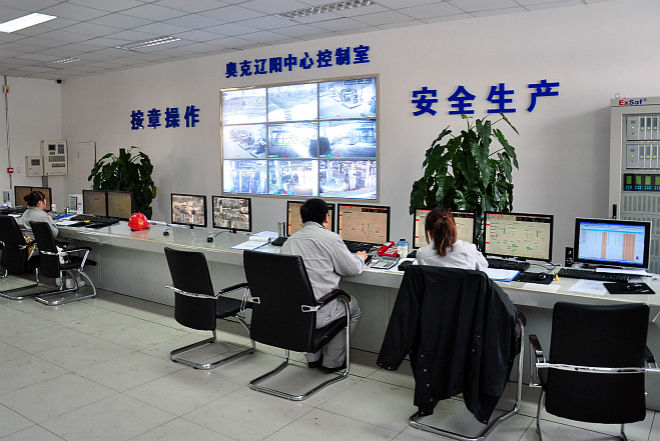 Undated file photo shows workers in Liaoning Oxiranchem, Inc. in Liaoyang, northeast China's Liaoning Province. [Oxiranchem/Handout via Xinhua]
Oxiranchem saw a 75-percent rise in its operating profit in 2018 with revenue reaching over 8 billion yuan, up 31 percent year on year.
"Chinese enterprises weigh the development more from a long-term perspective and invest more resources on R&D, implicating a rational business operation philosophy," said Ning Gaoning, chairman of Chinese chemical firm Sinochem Group.
EMBRACING COOPERATION, COMPETITION
Opening-up was never just about borders and trade, it was also about people's minds. As China continues to open up, its companies are embracing cooperation and competition, considering both as the engines for progress.
With the world being increasingly interconnected, cooperation has become inevitable, said Susana Sun, vice general manager of a Chinese semiconductor company, adding that "the industry cannot survive without international cooperation."
Sun took chip manufacturing as an example, which she said is composed of more than 2,000 production procedures, and no single country or company can take that job on their own.
The company has teamed up with partners from Europe, North America and other Asian countries. Despite the tensions triggered by some countries, companies have to do business, and cooperation remains the consensus among the sector, Sun said.
As a new player in the market, the company is catching up fast. "Our products are competitive in terms of both technology and price. We welcome healthy competition," Sun said.
Increasing competition following China's greater opening-up has created a catfish effect, forcing companies to develop better products and bring new technologies to market fast.
"Opening-up did not and will not make Chinese companies lose," said Wang Jingdong, a senior executive of Gree. Once considered swimming with sharks, competing with foreign players did not fail the Chinese home appliance sector but made it one of China's most competitive manufacturing industries.
"It's a mutually beneficial process, boosting China's development while sharing the growth dividends with the rest of the world," Wang said.
The economic and trade tensions have brought about uncertainties, but at the same time assured Chinese entrepreneurs that only through innovation, opening-up and cooperation can such uncertainties be dealt with in a better way, said Zhang Yansheng, a researcher with China Center for International Economic Exchanges.