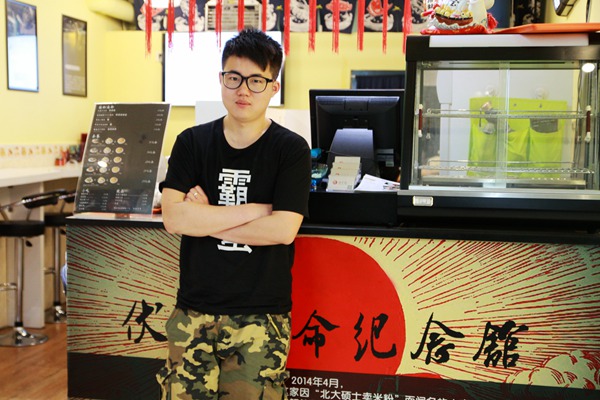 Zhang Tianyi, wearing a black shirt bearing the words"Ba Man", which in Central China's Hunan dialect means "stubborn and hardworking", in his restaurant in the Beijing CBD, on April 14, 2015. [Photo/Song Wei]
"You can disagree with them, but the only thing you can't do is ignore them. That's the philosophy of my life", said 25-year-old Zhang Tianyi, CEO of restaurant chain Fu Niu Tang (F.N.T), as the sound of a famous Apple advertisement video "Here's to the crazy ones" drew to a close on his phone.
As the Apple video advocates, Zhang is a young businessman who "thinks different".
Zhang, a post-90s postgraduate of Peking University, settled in a high-rise office building in Beijing's CBD by becoming a restaurant owner rather than a white-collar worker like most of his classmates.
He opened the first F.N.T restaurant specializing in rice noodles from his home province of Hunan in April last year, two months before graduation. Now, he has his fourth restaurant newly opened in the capital.
"Stepping into society from school means you are forced to change by a set of strong rules. I regard startups as a way against the rules. I hope I can innovate," he said, sitting in the corner of his small but well-organized restaurant.
With the Internet applied to the catering industry, he found an innovative way of developing business by drawing benefits from numerous and active online fans.
Posters are installed all over F.N.T restaurant in the CBD of Beijing, on April 14, 2015. [Photo/Song Wei]
The poster, named Upstairs and downstairs, on the left reads "(I) went to work in the underground of this office building after graduation. Upstairs can be found the most prominent law firm, Jindu, in China, in which many of my classmates work. To my satisfaction I never go upstairs to visit Jindu, while my classmates often come downstairs to visit F.N.T."
The poster, named Bodhisattva blesses our brothers, on the right reads "We (Zhang and his partners) went to the Lama Temple to pray for good luck for F.N.T before its opening on March, 2014. My wish is that 'no matter rich or poor, we are good brothers who spend the rest of our lives together. The past time never comes back'."
"My thinking is to build a platform to connect people," Zhang said with his upper body leaning forward and an intense look into your reporter's eyes.
Among a generation growing up in the Internet era, he realized his goal by mobilizing the web. Before starting business, Zhang and his partners worked hard to promote their products and brand on their personal accounts of the country's most popular social media such as instant messaging platform QQ, Sina Weibo, China's version of Twitter and messaging app WeChat.
In the third month after his restaurant opened the number of followers on the three social media outlets has reached nearly 10,000.
The continuous growth of fans and curious people visiting F.N.T restaurant exceeded the capacity of the 30-square-meter space, secluded at the end of a lone aisle in the underground of an office building.
"Nearly half of F.N.T's visitors come through the Internet," said Zhang. By comparison, most traditional restaurants rely heavily on a superior location to bring natural customer flow.
"The starting point of my business is selling rice noodles, and the end is brand. Customers make a connection with us when they buy the first bowl of rice noodles," Zhang said with his index finger tapping the edge of the table to emphasize his point.
In the process of running F.N.T, Zhang has organized an association "Ba Man Club", membership of which comes from his staff and customers, who are mainly Hunan locals born after 1985 and work in Beijing. "Ba Man" is Hunan dialect meaning "stubborn" and "hardworking".
Being of a similar age, with a home province in common and social communication makes the association strong and active enough to hold activities most weekends, even if it has expanded to become a community of nearly 100,000 today, 10 times the number of his followers a year ago.
"That is what the Internet era offers - connect your customer with your brand," he said as he changed position again, riding the chair and two hands holding another in a dominating manner, just as he dominates F.N.T, "the trump card of F.N.T is this 100,000-member association."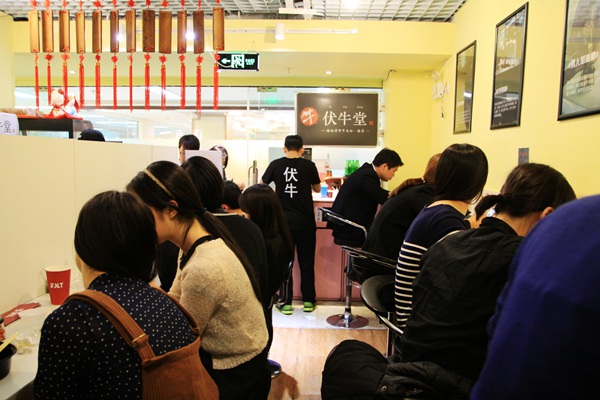 F.N.T restaurant, covering an area of 30 square meters, is packed with customers during lunch time, in Beijing's CBD, April 14, 2015. Customers are asked to deliver their leftovers to a recovery stand in the corner of the restaurant and get a free orange in return. [Photo/Song Wei]
F.N.T benefits from "Ba Man Club".
Half his staff are from "Ba Man Club", so are the volunteers who run F.N.T's WeChat account and the voluntary F.N.T brand designer, according to Zhang.
In March, when he raised money on social media to fund his attendance at a business training class, he received more than 516,000 yuan ($83,179) from 846 payments in 38 hours, most of which came from fans.
Zhang gives F.N.T a unique label - a non-governmental organization driven by shared values and ideals.
"Anyone who acknowledges my values will live in my system and push it forward. It is simply that in my system, selling rice noodles gains. Making profit is a side product," Zhang said with a smile.