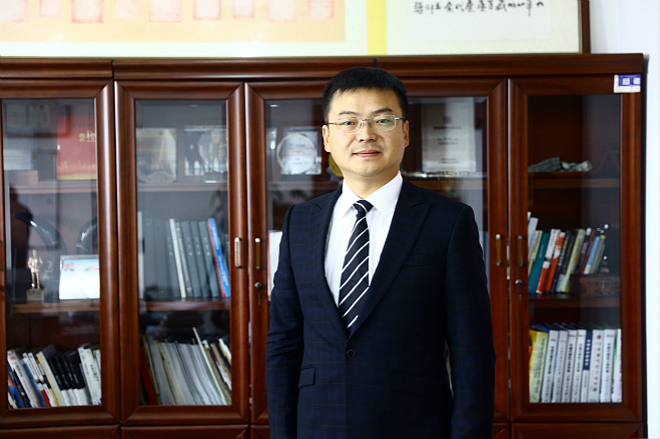 Liu Yi in his office in Chizhou, east China's Anhui Province. Photo taken on Nov. 13, 2018 by Qu Yan
Ten years ago, Liu Yi, then at the peak of his career with an American automobile company, decided to quit his job and return to his hometown in eastern China's Anhui Province with a mission to "restore the blue sky."

"My hometown lies at the foot of Mount Jiuhua, one of the four great Buddhist mountains in China. In my childhood memories, the sky was blue, mountains green and water clear," said Liu.
"In 2008, I found that China was plagued by air pollution caused by motor vehicle emissions, but the exhaust treatment industry back then was so underdeveloped," he said.
Now, as the CEO of one of China's leading enterprises in engine exhaust treatment, Liu is fighting at the forefront in the country's battle against air pollution.
In 2008, he led a group of PhD graduates to set up ActBlue Co., Ltd., a tech firm focused on the research and development of engine exhaust treatment products, located in the city of Chizhou.
Featuring exhaust treatment systems that use catalysts to convert engine emissions such as nitrogen oxide and carbon monoxide into harmless carbon dioxide, nitrogen and water, the company has posted a surging sales revenue since 2014, with an average annual growth rate of over 100 percent. Last year, the company paid 22 million yuan in taxes.
All of this has happened amid the take-off of environmental industries in China, whose total sales revenue has grown by an average annual growth rate of 26.9 percent since 2011, according to the China Association of Environmental Protection Industry.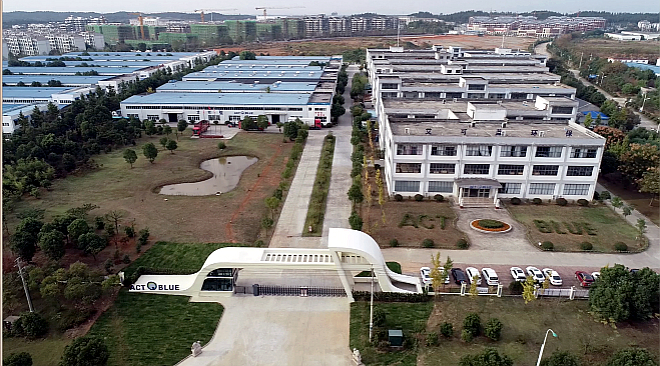 Aerial photo shows ActBlue Co.,Ltd., a high-tech firm focused on the research and development of engine exhaust treatment products, which islocated in the city of Chizhou, east China's Anhui Province. Photo taken on Nov. 13 by Tang Yang
CAMPAIGN TO GO GREEN
The road to success was anything but smooth for Liu's company.
"The automobile industry is highly competitive. From the first day, we have been competing with the best players in the world, whose research team is larger than our whole company," he recalled.
The greater importance that the Chinese government and public have attached to environmental protection, however, has sent a favorable wind behind the company.
"Chizhou's government granted us 20 million yuan (about 2.9 million U.S. dollars) in loans and 4,000 square meters of land in the start-up period," he said, adding that they also benefited from favorable tax policies.
The company's statistics show it enjoyed a total tax cut of 31 million yuan from 2014 to 2018, thanks to a series of policies such as tax relief for high-tech enterprises.
The products from the company have catered to huge and still-growing demands in China, currently the world's largest automobile market with its automobile sales reaching a record-breaking 28.8 million units in 2017.
"In a way, technological advances have also pushed up China's emission standard," said Liu, whose ActBlue has developed products that meet China's State VI emission standard, equivalent to the Euro VI standard.
"In 2014, the State IV emission standard was applied in China. Now China is considering implementing the strictest standards," he said. "China has achieved in only four years what Europe has done in over 10 years."