Beijing Daxing International Airport, completed on Sunday, has the world's largest single-building airport terminal. With a total surface area of 1.4 million square meters, it's a comprehensive transport hub, combining light rail, intercity railway, expressway and airport services. 
The airport is expected to reach a throughput of 45 million passengers. The 12.1-billion-U.S.-dollar mega project once again proves that China's transport infrastructure is ahead of the world.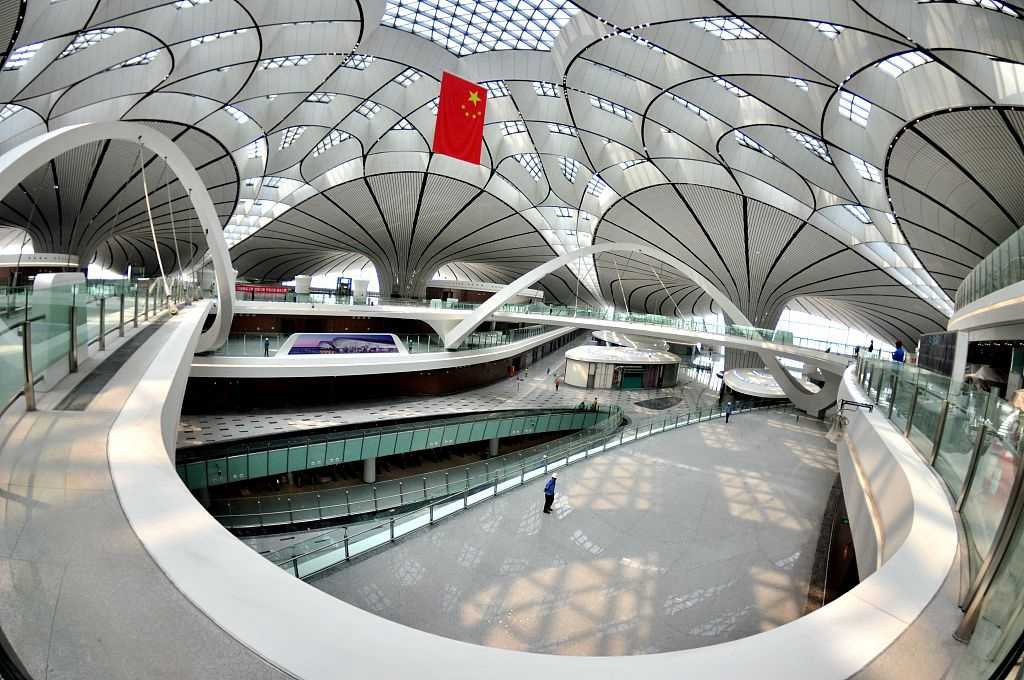 Beijing Daxing International Airport terminal. /VCG Photo
Over the past four decades, infrastructure in China has developed by leaps and bounds. 
Take transport development for example. The length of China's railway has expanded from 50,000 km in 1978 to 130,000 km in 2018. Its highway also increased from 120,000 km to 4.05 million km during the same period. 
"In China, there is a very interesting saying: If you want to be rich, you have to build roads," said Su Yunsheng, executive vice president of the Shanghai International Institute of Design & Innovation. 
China's integrated transport networks facilitate the passage of goods and the movement of trade, which has boosted the country's miraculous economic growth. 
In 2018, at least 130 million express parcels traveled along China's transport network every day. The annual number of the express deliveries of physical goods reached 50.7 billion, generating over one trillion U.S. dollars in retail income. 
By the end of August 2018, Trans-Eurasia Logistics, which connects 44 cities in 15 European countries and China, had 65 routes that carry over 11,000 trains transporting 920,000 containers of goods.  
Supported by its powerful transport infrastructure, China joins hands with the Belt-and-Road countries for greater development and growth.
China's development doesn't solely rely on its powerful transport arteries. Capillary engineering involving streets and rural roads also have equal importance, particularly in impoverished mid-western areas.   
In Guizhou, the only Chinese province without a plain, over 20,000 bridges connect traffic in the mountains. In Guizhou, 8,172 kilometers of rural roads were built or renovated in 2018.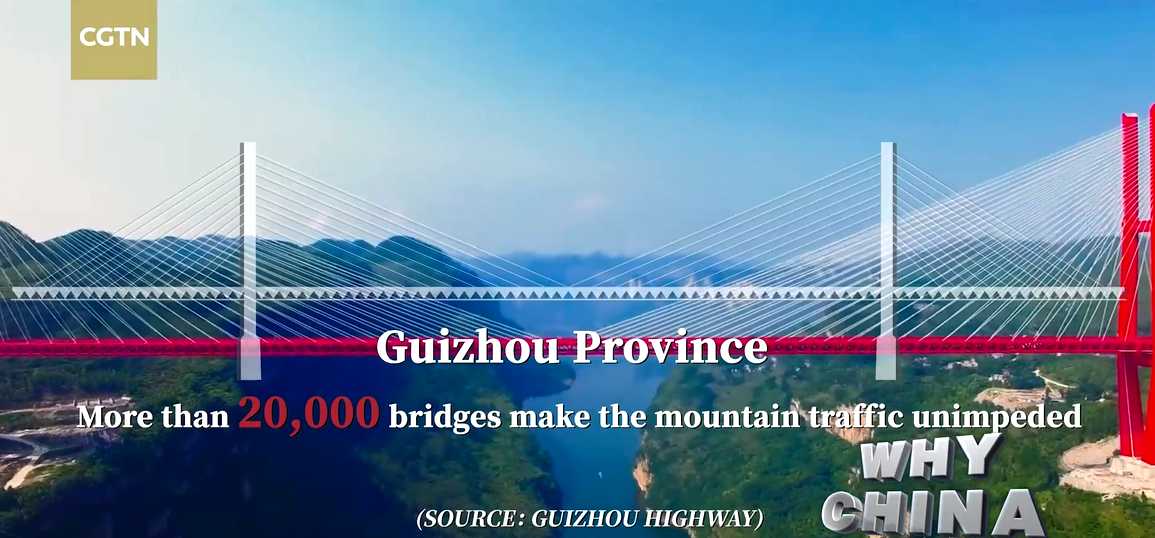 Over 20,000 bridges connect traffic in the mountains of southwest China's Guizhou Province. /CGTN Photo

Enhanced accessibility to the mountainous areas has promoted economic growth. Guizhou became the only province in a decade whose GDP grew by over threefold. 
In 2018, the sales volume of China's excavators, an important gauge of transport-infrastructure development, was 19,313, among which smaller excavators for farm irrigation grew the most, by 27.5 percent. 
It means that China's large transport infrastructure development has a positive and correlative effect on the development of the small-scale transport infrastructure, which impacts on the life of every Chinese. 
Apart from conventional infrastructures, such as transport, energy sources and water conservancy, China has also been striving to achieve new growth points in new infrastructures, such as 5G, artificial intelligence, industrial Internet and fiber-optic communication. 
In the future, China will continue to intensify its investment in different development projects. In general, investment in infrastructure development will increase by 10 percent in 2019, a key force that continues to drive the economic growth.