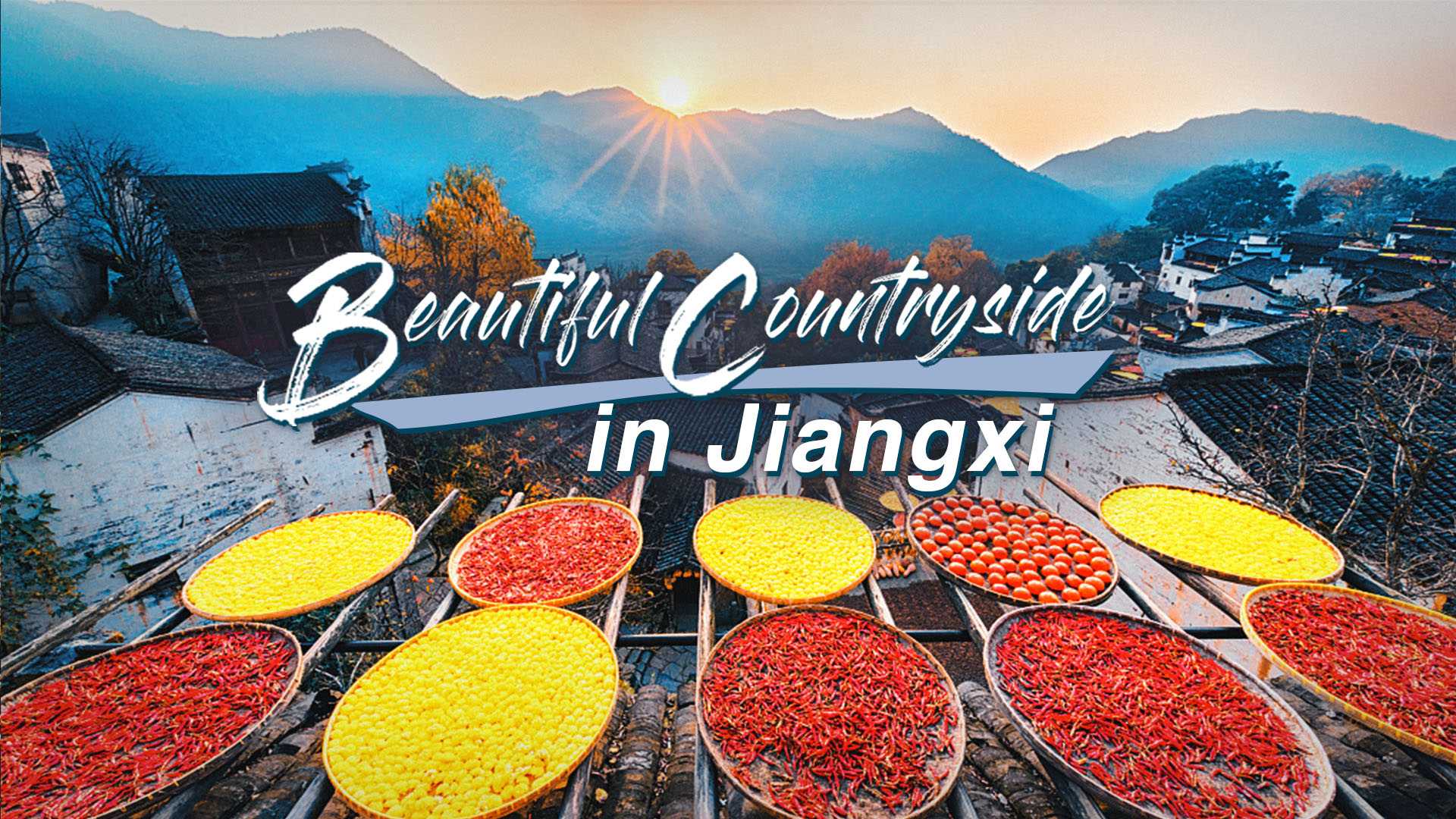 The mention of eastern China's Jiangxi Province might remind many of the world-famous Porcelain Capital – Jingdezhen. Around 80 kilometers east of Jingdezhen lies an ancient village that has gained popularity in recent years. This episode takes you to Huangling Village in Wuyuan County to explore the pearl enveloped by lush mountains.
Dating back to the Ming Dynasty (1368-1644), Huangling Village was once packed with dilapidated houses and buildings. Changes began to take place when it underwent a series of restoration work from 2009, with over 80 percent of the shabby houses renovated. Today, a fresh appearance and idyllic customs and culture attract a number of tourists, painters and photographers from around the world to this area.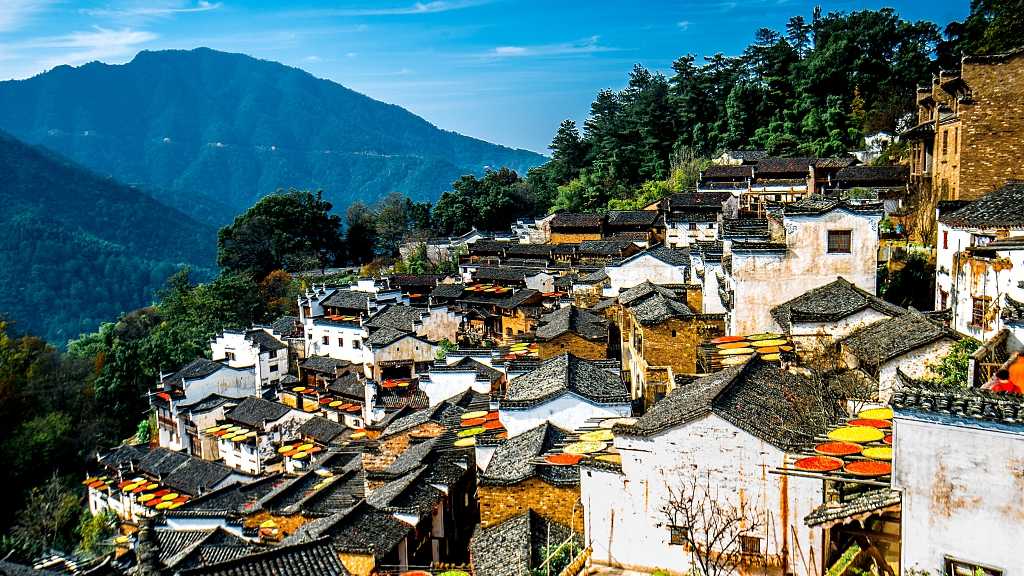 Huangling Village is located in Wuyuan County, eastern China's Jiangxi Province. /VCG Photo
Huangling is surrounded by mesmerizing scenery the whole year round, offering visitors an atmosphere of simplicity and elegance. For flower-lovers, the terraced fields covered with golden rapeseed flowers in spring season form a jaw-dropping sight. In summer, the towering old trees, stone-paved paths and winding streams drive away the summer heat.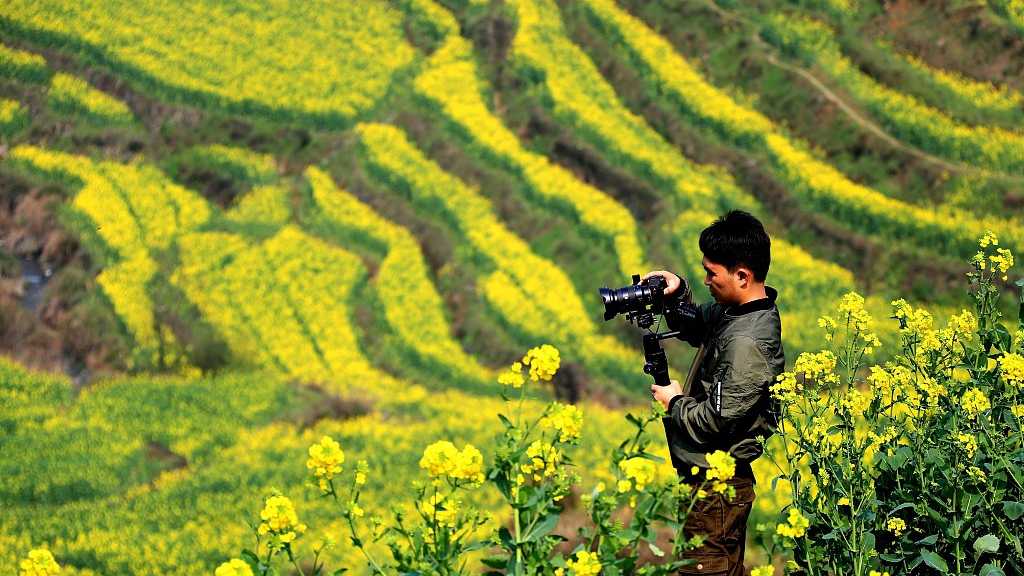 A visitor takes photos at a golden terrace in Huangling Village, March 11, 2019. /VCG Photo
In early autumn, large bamboo baskets filled with crops, such as chilies, pumpkins and chrysanthemum flowers, are placed in front of the local houses. This process is called shaiqiu in Chinese – a tradition that has been passed down for centuries. The locals dry and preserve the crops for winter. Nowadays, it has become a symbol of local culture and also a highlight of rural tourism. In winter, thin layers of white snow coat the entire village, emanating a sense of peace and tranquility.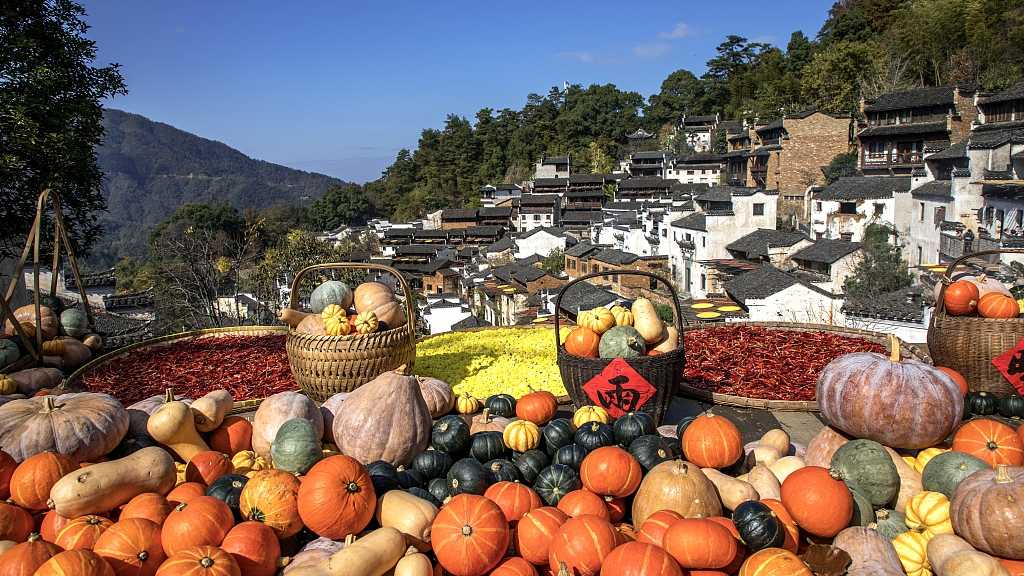 Pumpkins, chilies and chrysanthemum flowers are being dried in front of a local house in autumn. /VCG Photo
The village can be reached by cable cars in which visitors can enjoy a bird's-eye view of the village. From layers of terraces to a panorama of blooming flowers, tourists can fully indulge themselves in the natural and idyllic scenery of Huangling.
By the time the ride ends, you're taken to the entrance of the village. Walking down the blue stone path, you can see ancient residences with special local characteristics lying on both sides of the street. On a closer look, the old and exquisite wood carvings on the buildings tell the long history of the village.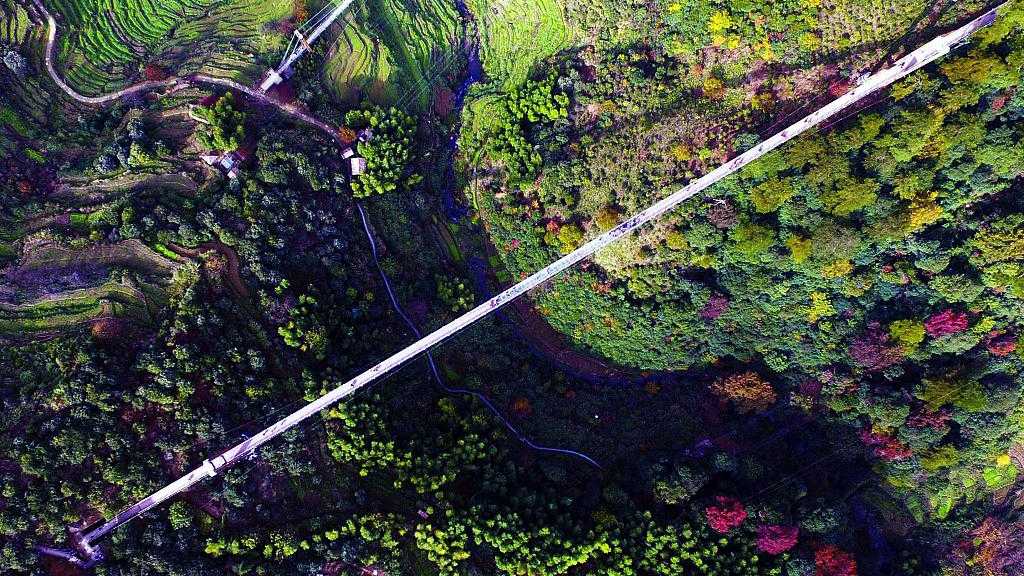 The 298-meter-long Leixin suspension bridge is another popular site. /VCG Photo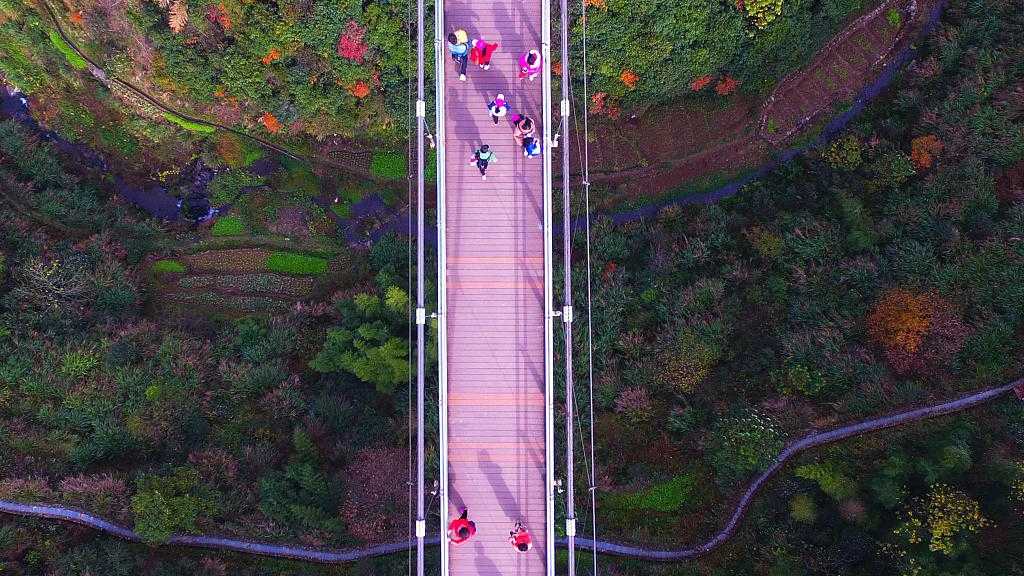 The 298-meter-long Leixin suspension bridge is another popular site. /VCG Photo
Travel tips:
Transportation: Take a bullet train to Wuyuan Railway Station and then take Wuyuan Bus No. 3 to Laobei Station where a direct bus will take you to the destination.
Fee: 120 yuan (17 U.S. dollars) for admission and 120 yuan (17 U.S. dollars) for return tickets of cable car
Opening hours: 7 a.m. – 5:30 p.m.
1184km